Welcome!
Here you will find fiVO Design company information, logos, press releases, and more--everything you will need to write an incredible story about fiVO Design.
fiVO Design Press Releases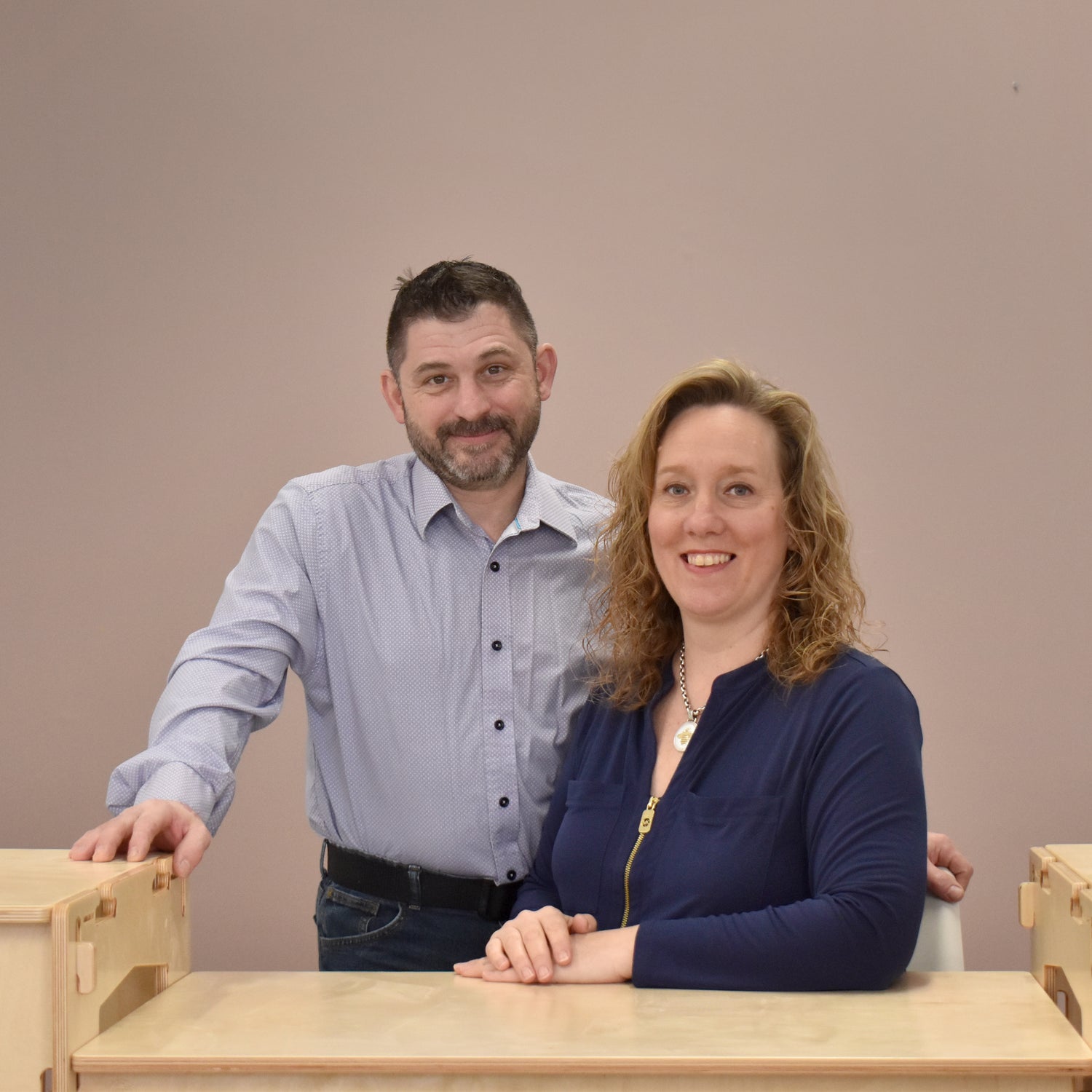 Meet the fiVO Design Team
Family run and Veteran owned with husband and wife team Stewart and Deanna Junge at the helm, fiVO Design is providing a fresh perspective on an old concept. With 20+ years of experience designing and building one-of-a-kind and often complex cabinetry, millwork and furniture, the Junges have broken down joinery to its simplest form while thoughtfully crafting designs that are beautiful and functional. fiVO's patented and patent pending Infiniti Joinery is Redefining Modular.
Stewart, a United States Navy Veteran, has been an entrepreneur his entire life in the woodworking industry. Deanna is a CPA by education and joined the business in 2006 when they started their family. Together, they manage the operations of fiVO Design.
fiVO Design - Meaning
The name "fiVO Design" has very special meaning.
The 'fi" is a tribute to the Italian mathematician Fibonacci. The Fibonacci sequence and Rule of Golden Proportion are found throughout nature and influence our designs. 
The "VO" stands for Veteran-Owned as Stewart is a proud United States Navy Veteran.  
The fiVO Design Brand Story
fiVO Design embodies the evolution of our business. In our 20 years, we started with finish carpentry, pivoted to custom cabinetry, pivoted again to clear protection barriers, and now we have our own line of innovative furniture.   
During the COVID-19 Pandemic, we were forced to close our doors and our custom cabinetry projects at the time were put on hold. Clients did not want workers in their homes. We utilized that time to reflect on our business and our goals, and identified an opportunity to pivot our business. We started to design and manufacture a line of clear protection barriers(sneeze guards) to help our local schools and businesses safely transition back to business. The design consisted of a unique hook and slot system that allowed multiple units to be linked together at different heights, creating a near seamless barrier for long transaction tops. 
During the Pandemic, many families struggled with space constraints as parents worked from home and children participated in remote learning. Living rooms, kitchens, and bedrooms across the world were turning into home offices and remote classrooms. Again, we saw an opportunity to help.  
At the end of 2020, Stewart wanted to build a desk for charity but was struggling with the design. Deanna encouraged him to use the hook and slot system from the clear protection barriers and apply it to wood. After only a couple weeks of prototyping, the MOD5 was created. It was a desk in its simplest form, but is adjustable in height and can be flat packed and stored away easily when not in use. The catch--it does not require tools or hardware, and can be assembled or taken apart in less than one minute. Children and adults alike can now work from anywhere.  
But we didn't stop there. We created accessories for the MOD5, making it truly adaptable to any space. Extension leaves can be added on the sides or a hutch can be assembled on the back. Our patent pending Infiniti Joinery System allows our desks to be linked together, creating infinite possibilities! It has grown to an entire line of fully modular furniture, including occasional, dining, and bedroom furniture. We are thrilled to be bringing it to market and sharing our innovation with the world!